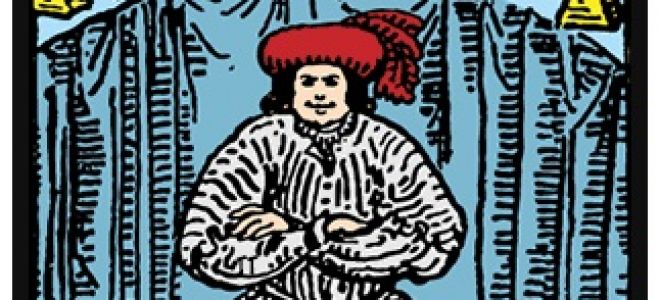 The Nine of Cups meaning: love, money, future
The Nine of Cups shows a man sitting on a wooden bench. He smiles and keeps his arms crossed, as he is comfortable and satisfied with everything. However, how long will he be happy to sit on this bench? Nine golden cups stand behind him on a curved stand draped in blue fabric. Cups are a symbol of emotional fulfillment after receiving the desired.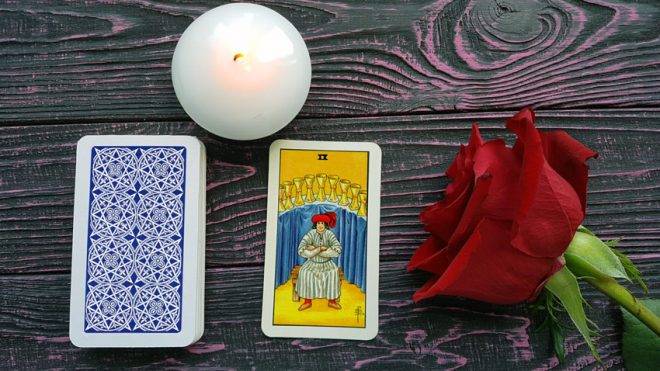 What does symbolize The Nine of Cups?
Upright
The Nine of Cups symbolizes a moment of complete emotional satisfaction from what has been achieved. The appearance of the card means that all areas of life work as they should. You are in a relationship with a loved one, have a good job and feel yourself spiritually and physically healthy. That is why the Nine of Cups is sometimes called the wish card. Life is beautiful, and you enjoy what you have dreamed about. If the goal isn't yet fully achieved or the plans haven't yet been accomplished, Tarot gives a sign that everything will end in success.
Now, allow yourself to enjoy life. Discover new pleasures that have not been tried before. Enjoy delicious food, immerse yourself in art, relax at the luxurious resort and learn to appreciate beautiful things. If there are problems, the Nine of Cups recommends trying to forget about negative thoughts. Also, don't forget to be grateful. Always remember how much good life costs and how it is important to appreciate what you have. If you cannot boast that you have everything, try to find those things, which you can thank for. So, you will understand that you have much more than it seems.
One thing that darkens the pleasant aura of the Nine of Cups is that the man is sitting on a wooden bench that is comfortable for a certain period. Happiness can't last forever. Appreciate what you have now as it may disappear later. Our life is full of ups and downs, so enjoy the moment, but do not forget that then you will again have to work hard.
Reversed
It seems that everything that was wanted is achieved, but something is missing. The reversed Nine of Cups recommends asking yourself if you are emotionally satisfied? Money and house size is not an indicator of happiness. One, who works hard to buy the most expensive things, may be deeply unhappy because of the inability to share them with the family, which he doesn't see because of work. While earning wealth, it is very easy to forget about spiritual values. Instead of evaluating external indicators, look inside. Success and happiness can be two different things. If you do not feel the pleasure of life, think about the basic human needs.
The reversed Nine of Cups may appear in case of disappointment because of unfulfilled plans. Maybe you set a very unreal goal and didn't put enough effort. Sometimes, we expect our dream to make us happy, but it turns out to be wrong. However, don't give up. The problem may be that you are looking at the target from the wrong angle. Alternatively, you are not doing enough or going in the right direction. In this case, revise the plan.
The Nine of Cups reversed may be a sign of excessive pleasure abuse that adversely affects your physical and mental health. This applies to alcohol, drugs, food, money spending or partying. All this is temporary happiness that can bring long-lasting damage.
Nine of Cups in love and relationship readings
Upright
If you are in a relationship, the appearance of the Nine of Cups is a good sign. You are absolutely satisfied with your love life. The card means happiness and positive energy that fills the relationship. Both partners feel like in paradise and share many romantic moments together. The Nine of Cups is also an indicator of good sex life. Dates are complemented by pleasant moments in bed and the well-being of both lovers. Sensuality and emotional connection are on top.
If your couple has been together for a long time and is thinking about a new stage in the relationship, the Nine of Cups is the green light for these plans. Both partners are ready for a more significant commitment. The card means engagement, marriage or pregnancy.
If you are single, the Nine of Cups represents a healthy state of mind and emotions. Now, you feel comfortable as a bachelor, but also ready for a new relationship with a decent person. The past experience helped to gain spiritual maturity and readiness for greater responsibility. You are radiating the right energy now, so you attract the same people as you. Use knowledge from past relationships to create a strong alliance in the future.
Reversed
If you are in a relationship, the Nine of Cups reversed means frustration due to the fact that things don't go as needed. One or both partners feel disappointed because of the choice they made. For example, a man has settled for a woman who looks great and cooks well, but he doesn't love her. Or a girl married a guy who earns a lot of money, but he is often not at home because of his work. However, others may not see the problem. A person may be depressed and sad in the love life, but happy in other areas.
Alternatively, the card in a reversed position means stagnation after a temporary emotional boost in a relationship. For example, your couple is young, but the excitement period has already passed. Both partners can't get used to the routine of relationships. This is also common for newlyweds. Maybe the couple got married recently, spent a magical honeymoon and now should learn to live together. The number of romance and positive emotions decreased and, now, one or both partners in depression.
If you are single, the Nine of Cups reversed is a sign of unpreparedness for love. You are in a sad emotional state or do not have the necessary experience to make a relationship work. If you attract only the wrong type of people, think about whom you need at first. Analyze and improve yourself to match your desired partner. A person must like himself to make someone loves him. Alternatively, the Nine of Cups reversed means overconfidence that scares people. The card can also mean sex without love.
Nine of Cups in money readings
Upright
The Nine of Cups promises career success. It is a card of achievement and satisfaction. It does not matter what your role in the project is, you are the one, who will get recognition. Act on the existing plan in the head, and things will turn out good. If you have a dream or a business idea, the Nine of Cups is a sign of the need to take action. For finance, the card symbolizes abundance and wealth. Money investments are resulting in unexpected success. There can be a monetary bonus or reward too.
Reversed
The Nine of Cups reversed means disappointment because of failed projects. Dream job or business turned out to be a disappointment. Perhaps you received a long-awaited promotion but realized that this is not what you want. The card can also mean the difficulty of finding a work and fatigue of constant failure. Sometimes, the Nine of Cups in a reversed position indicates hard work that does not have proper treatment. You are working as hard as possible, but you earn a little and don't have deserved recognition. For finance, the Nine of Cups reversed is a bad sign.
Nine of Cups advice
The card is about complete satisfaction. Spend time enjoying this moment and don't forget about gratitude. Try something you haven't tried before, but don't overdo it. However, don't relax completely, as you must understand that this is not forever.
Yes / No Tarot Reading
The Nine of Cups symbolizes joy and satisfaction in life. It represents a moment of endless pleasure when you feel blessed. The answer to your question is yes.