Seven of Pentacles tarot card meanings
The Seven of Pentacles portrays a man leaning on a hoe. He is a real hard worker who looks at the fruits of his labor, a densely growing bush with 7 gold coins. His face and posture suggest that he is tired because he did not know the measures in his actions. He worked more than it was necessary. His position is correct, as only hard work can bring success; however, it is worth remembering that rest and taking care of yourself are important too. The card says that you should not overwork.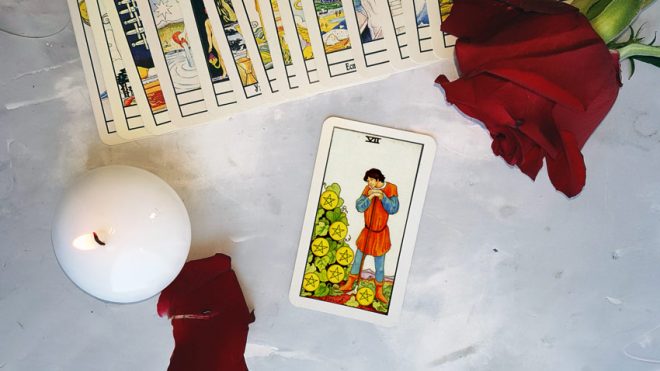 General interpretation
Upright
The Seven of Pentacles says that you have the right approach to work. You are not looking for easy ways and are working hard to achieve long-term rewards. You do not like to spend time and try to develop in the necessary directions. The card is a sign that you must take a break from continuous action to the goal. Celebrate what you have already achieved to have the energy for further work.
If you are thinking about plans for the future, the Seven of Pentacles recommends thinking with a long-term perspective. Spend your strength, energy, and potential on something that pleases your heart and will benefit you.
The Seven of Pentacles often appears to those who have worked hard for several months. The card means that you are at the finish line and will be rewarded soon. You will undoubtedly feel how this will affect your finances and quality of life.
Alternatively, the Seven of Pentacles can mean disappointment due to lack of results. You work hard for a long time but hardly move from the initial point; this makes you think about the meaninglessness of actions. Appreciate your work and how far you have come. No one gives a guarantee of success, and the result is not always achievable.
Reversed
The Seven of Pentacles reversed tells you to wonder whether you are directing your strength and attention right. The card is a sign that you are investing resources and emotions in an area that will not bear fruit. You expect the result, but it does not come. Maybe, you expected to receive joy from a new business, but this only brings stress and frustration. Check whether you are satisfied with the progress and future prospects.
If you see that things are standing still, but you continue in the same direction, you may be disappointed due to the lack of results at the end. The reversed Seven of Pentacles recommends highlighting priority actions that are likely to bring a positive outcome. Analyze actions and their significance. Do something that requires a minimum amount of resources and brings maximum efficiency on the way to the goal.
The reversed card can also say that you know how to stop when a business doesn't go. Many people prefer to go to the end in spite of obvious failures since they have already taken this path and do not want to be defeated. However, you are smart and understand that it is better to leave the game with small losses than to lose it all. You will quickly adapt to the new business.
Seven of Pentacles for love and relationships
Upright
The Seven of Pentacles is a good sign in a love tarot. You and your partner make an equal contribution to the development of relationships and the education of each other as individuals. A card means growth and excellence, so your relationship has a long-term perspective. Now you can already see the fruits of your mutual work. Arrange a well-deserved romantic "escape" to gain positive energy to continue maintaining this condition. Remember, this is possible only in the case of mutual cultivation of a relationship.
Alternatively, the card means that your couple has a common financial goal. For example, you want to arrange a fabulous wedding or are going to buy a house. The appearance of the Seven of Pentacles in your Tarot reading means getting what you want very soon. It can also foreshadow pregnancy.
If you are single, the Seven of Pentacles says that you think a lot about the mistakes of past relationships. This is not bad because now you can decide what you are looking for in the next partner. Previously, you were choosing wrong persons that were leading to short-term romances or unpleasant breakups. Be patient and wait for the right partner. Take care of other areas of your life until fate provides a decent variant.
Reversed
The Seven of Pentacles is not the best card in love Tarot. On the one hand, she can say that you and your partner are bored in a relationship and need some "me" time. This is normal, and you can solve the situation to save love. On the other hand, both of you are very busy outside the couple and, accordingly, do not have time to promote relationship. Both of you are busy with your personal problems, affairs, and finances, so you do not have the connection that was before.
Alternatively, a card means that you put a lot of effort and emotion into relationships, but you don't see the result and sense to continue. In this case, you may be right. If you feel that the love area of your life is not very significant and you see more priority goals, change your focus. The Seven of Pentacles is not a sign that you should end the relationship. Talk to your partner and review your future plans. You both may become successful in other areas of life.
If you are single, the card means that you are strongly focused on work and enrichment. You are disappointed because of the lack of love and at the same time you do not pay your attention to this area. Remember that the man or woman of your dreams does not appear from nowhere, you must make some efforts first. Feel free to meet new people and attend more social events. At the same time, do not overdo as it can cause depression. Healthy love should appear naturally and not interfere with your own development.
Seven of Pentacles for money and career
Upright
When the Seven of Pentacles appears, expect a payoff and recognition of your labors. The card is a sign of successful, ambitious undertakings and striving for a goal. Think about where you would like to see yourself in a few years, relate it to your business or career and create an action plan. Be patient and calm as things promise to go well. Now, you may be at a crossroads and cannot determine the direction. The Seven of Pentacles can also talk about nearing retirement. The Seven of Pentacles brings bonuses and rewards to your finances since you have earned by your hard work. It can also mean inheritance.
Reversed
The Seven of Pentacles means either you are over-working or not working enough. In any case, it brings nothing good for you and your career. If you workaholic, it drains you and does not bring a positive result. On the other hand, laziness and procrastination hinder the implementation of your plans. The reason for your failure can be the wrong choice of priorities. Review your interests, plans, and areas of focus. Also, the Seven of Pentacles reversed can mean that someone is late with retirement which leads to problems, delays, setbacks, and frustration due to lack of growth. The card has bad news for finance and means losses, unsuccessful investments or insufficient profit. Perhaps you suffer from a low salary despite the extremely hard work.
Seven of Pentacles advice
Be patient on the way to the goal. At the same time, remember that overworking can be counterproductive so take time to have a rest. If you have setbacks, review your priorities and maybe you should concentrate on another matter or area. The Seven of Pentacles means getting long-awaited fruits after hard work, so enjoy them before continuing your actions.
Yes / No Tarot Reading
The Seven of Pentacles represents slow, steady growth and a reward for patience. The card does not give a clear answer to your question.