The Knight of Pentacles tarot card meanings
The Knight of Pentacles sits on his horse in full uniform with a coin in his hand. He looks into the distance as he knows what he wants and sees the goal. He is fully prepared for battle, but he stands as he believes that the guarantee of a successful result is detailed planning of actions. The background is minimalistic, and you can see only the field with noticeable tracks. He is not too lazy to go round and round to achieve the goal as he knows that the best can be received only through hard work.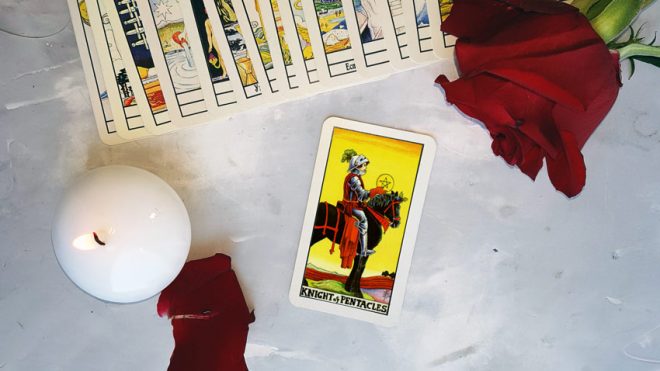 General meaning
Upright
The essence of all the Knights cards is hard work and responsibility. The Knight of Pentacles is the most motivated and hardworking character in Tarot. Perhaps he has no experience or creativity; he sees the goal and is ready to perform any tasks to achieve it. He is prepared for long monotonous things and routine.
The appearance of the card in your Tarot reading means that you act slowly but apparently in the direction of the goal. You are methodical, have a plan and are completely committed to the cause. Maybe you think that you are walking in a circle or stuck in a routine, continue the planned actions and you will definitely achieve success. And your approach is undoubtedly correct despite the criticism and desire to get results faster. The Knight of Pentacles says that you did a great job by using your planning skills; you have the perfect vision of the situation and the way to achieve the goal despite the obstacles.
The meaning of the Knight of Pentacles cannot be as positive sometimes. The card can also talk about boring and monotonous work, which you must do, whether you want to or not. You must accept this task or project and include maximum responsibility.
On the other hand, the card can mean that you are comfortable with the monotony and routine of your life. However, you understand that change is needed. You have a plan and an understanding of how difficult it is to get out of your comfort zone to achieve your goal.
Reversed
The appearance of the reversed Knight of Pentacles says that you lack the commitment to achieve the goal. You are dreaming instead of planning. Plan your schedule for the day and repeat it to get what you want. It is perfect for self-improvement and developing good habits. For example, if you decide to lose weight and eat properly, make a diet and follow it daily. To develop your spirit, start exploring specific practices that will help you achieve success in love, business, money, and other areas of life.
On the other hand, the Knight of Pentacles may mean that you are stuck in a routine. It was your conscious decision, to observe the schedule of the day to improve the effectiveness of your actions and get a positive result. But now you want to move away from the rules and try something creative. Now is an excellent time for a change. However, if you are too conservative and accustomed to a quiet pastime, it may be difficult for you to adopt a new lifestyle. You need more companionship not to feel isolated in your routine. There is nothing wrong with quiet nights, give yourself time for transition.
The reversed Knight of Pentacles also indicates that you have become very pedantic about your work. You are disappointed by your environment as no one does the work as thoroughly and accurately as you. You often criticize colleagues because of their incompetence or inattention to details. You have to soften your approach and appreciate people for the way they work. Otherwise, you can make new enemies and stay alone.
Knight of Pentacles for love and relationships
Upright
If you are in a relationship, the Knight of Pentacles is a great sign in a love Tarot. The card means that you and your partner are committed to each other and pay a lot of attention to developing relationships. You live in harmony and stability. Your couple is strong, and no one can quarrel or separate you.
If your partner has the qualities of the Knight of Pentacles, you have a reliable person in your life. This is an honest and loyal person who will never betray or deceive you. In a relationship with this partner, you feel completely secure and do not worry about the future of the couple. The Knight accepts full responsibility for financial matters and works as much as it's necessary to ensure a comfortable life for his close ones.
If you are single, the card means that you have reached that point and level of maturity when you want stability in your love life. You are looking for a partner who will share responsibility with you. Over time, you will find a decent person who will provide you with the security and stability you need. It is worth considering that your desired partner has the qualities of the Knight of Pentacles; he will also require you to support the development of relationships and the achievement of common goals.
Reversed
The reversed Knight of Pentacles has two meanings in love Tarot. In the first case, your relationship is unstable, and you don't know what the future holds for your couple. You or your partner does not put enough effort to keep the couple successful. In the second case, you and the loved one are stuck within a routine and boredom that depress both of you. To save the relationship, you must make an effort to regain your former passion.
A map in a reversed position can mean that your loved one has the qualities of the Knight. Unfortunately, this is a lazy, irresponsible and deceitful person. He promises a beautiful and comfortable life, while he cannot provide this and does not even make efforts for self-realization. He uses love relationships for financial gain or higher social status. At the same time, he is not faithful, liar and regularly breaks promises. Alternatively, he focuses only on money and ignores the needs of the partner. Relationship pass without his participation and very dull.
If you are single, the Knight of Pentacles reversed claims that you are not yet ready for a serious relationship and responsibility. This is normal, and you will gain it over time. However, notify your next partner of the uncertainty of your intentions to avoid problems. It is possible that your future partner will have the negative qualities of the Knight of Pentacles: deceit, irresponsibility, and laziness.
Knight of Pentacles for money and career
Upright
The card promises career success. You have ambitious plans and are sure to reach your goal with a responsible approach. If you are a workaholic and are focused on a positive result, you will definitely be rewarded. If you cannot decide on a profession, select something related to the land and farming. Show yourself as a reliable and committed person to get your desired job. The Knight of Pentacles means financial stability. It means making a profit from a business or project that you have worked hard for. You save a lot, but you love a luxurious life.
Reversed
The Knight of Pentacles reversed says that you cannot reach the goal due to lack of desire, ambition, and focus. You do not put enough effort to get a positive result. The card means that you do not have enough experience, skills or business sense; therefore you make irrational decisions. Alternatively, you make a lot of effort to build a career forgetting about rest and your own health. The proverb "All work and no play makes Jack a dull boy" describes your situation. Spend more time for rest and fun. The Knight of Pentacles reversed means financial problems due to falls or bad habits, like gambling. You misuse money by making risky investments.
Card advice
The card recommends applying maximum strength and responsibility to the business to obtain a positive result. Focus on the target, build the plan and act. At the same time, do not go to extremes and devote time to rest.
Yes / No Tarot Reading
The Knight of Pentacles is trustworthy, talented and patient. The answer to your question is yes.