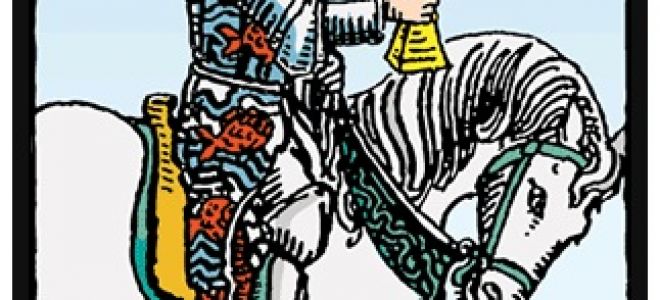 The Knight of Cups meanings
The Knight of Cups rides on a white horse and holds a gold cup in his right hand. He carries it as an important message. Besides his armor, he has a fish-patterned cloak. It's a symbol of consciousness and creativity. A pair of wings is on his helmet and boots as a sign of imagination and love for beautiful things. The Knight's horse moves slowly and gracefully means the opportunity to think. The horse, as a symbol, is power and strength. Its white color means purity and spirituality.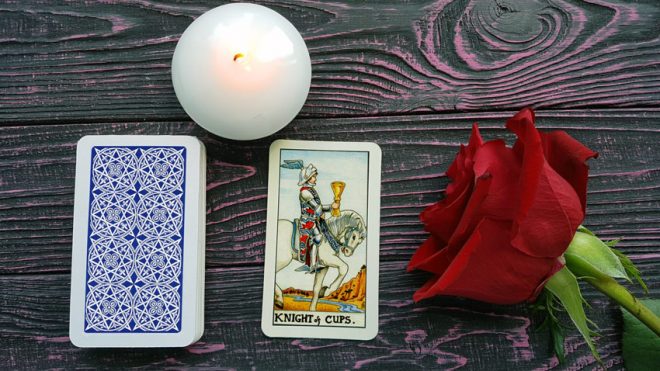 A small river flows in the background with fragments of trees near the shore. It is a symbol of strength, inspiration, and imagination, which help in creating life, even where it is impossible.
The universal tarot card meaning
Upright
The Knight of Cups is a master of understanding human emotions. He uses this skill and good intuition to make the right decisions. People feel attracted to him because of his gentle and kind nature. He has something feminine in his character that makes him a very romantic person. His heart is huge and radiates love, which he shares with others. He is ready to write poems to his beloved woman and read them all night long with a glass of wine to her.
The Knight of Cups means beautiful things and inspiration. Dreams that used to be just thoughts turned into motivation. You feel a strong craving for what you want as if it is calling you. It can be an art project or spiritual self-knowledge. Be curious and unlock the full potential of the idea. If you have a constant passion or hobby, think about turning it into something more important. There is no need to hurry. You have time to decide and plan a course of movement. However, remember that dreams will not become real without action.
All Knights are on a mission. The representative of Cups is a romantic, altruist, a connoisseur of beauty and expert of human souls. He knows how to achieve harmony and is ready to act. The heart is his guide, which leads him to peace.
Reversed
The reversed Knight of Cups means creative inspiration; however, you are not ready for action. Instead of thinking about a plan, you dream about what will happen after the goal is reached. Dreams are pleasant, but use them as motivation and not the main subject for reflection. Spend time thinking about the future for inspiration, but do not forget about actions.
The card in a reversed position may also mean that the goals are too unreal. Make sure your ideas are down-to-earth and possible to happen. Make calculations of resources and your abilities. So you can see the approximate dimensions of the work required. Build a plan based on the available information.
Sometimes, the reversed Knight of Cups means jealousy of people who have achieved more. You are disappointed because of the limitations. Anger and frustration over the inability to dream are overwhelming.
Speaking of the Knight of Cups reversed as a man, this is a very romantic guy. However, his approach to life is exaggerated and unrealistic. The card foreshadows a period of disillusionment and disappointments because everything turns out to be different from what he expected. What does this mean for you? For example, to get away from the noise of the office, you decide to work at home. But, instead of spiritual satisfaction, you discover that you need social contact with people. This is the exact opposite of what you wanted.
Knight of Cups for love and relationships
Upright
The appearance of the Knight of Cups is a good sign in the love Tarot. If you are in a relationship, the card means a significant emotional event soon. There is a high probability that this will be romantic proposals, marriage or something that implies the need to be responsible. Make a decision with a heart at such moments. The card can also predict upcoming romantic news.
The Knight of Cups can symbolize the features of you or your current/potential partner. First, this is a real romantic who values other people's feelings as well as his own. The card indicates the inner kindness and tenderness of a person. He is very affectionate even in public. It is worth noting that he is a sensitive person, so he requires the same gentle treatment as he provides. Speaking of his profession, it is something in the field of art and creativity.
If you are single, the card means excellent romantic news, which is about to be swept off your feet. If you are in love, the Knight of Cups recommends asking this person about feelings towards you. There is a high probability of mutual sympathy. Alternatively, the card talks about the need to pursue your love. Do not stand still, because then you get nothing. It's time to act and turn on the charm to the full.
Reversed
In a love Tarot reading, the Knight of Cups reversed is a negative sign. The card means separation due to an unexpected change in the behavior of one of the partners. This could also cause a broken engagement or a romantic proposal. Everything seems like in a fairy tale at first but then turns into insults and deception. Alcohol addiction may also be a cause. Refer to supporting cards for accurate prediction. Use this information to protect yourself or to suppress these qualities.
The Knight of Cups reversed means an irresponsible partner who may turn out to be a cheater. He quickly and often becomes abusive. On the other hand, he becomes obsessive with you, which is also expressed in aggression. You or the partner have these qualities.
If you are single, the Knight of Cups reversed may indicate that the next partner has the qualities described above. If you are in love, the card states that the person does not experience the same to you. But he can take advantage of the situation and spend one night with you. But you understand that this is not what you want. Alternatively, the Tarot card in a reversed position means homosexuality.
Knight of Cups for money and career
Upright
For a career, the Knight of Cups means good news or an offer. If you are expecting a response from the employer, it will be positive. In case of an important negotiation, be diplomatic, and success is guaranteed. Whatever happens at work, you can handle it. If you encounter difficulties, the card recommends using creativity and imagination to solve the problem. To those, who are undecided in the direction, the Knight of Cups advises trying something related to art and creativity.
Reversed
The Knight of Cups reversed means bad news related to work. Great deals leave you, or you miss them by yourself because of procrastination. If you have been interviewed recently, expect to be rejected. Also, the card means job loss, fraud, illegal activities, etc. In the case of an offer, check all details before agreeing. Alternatively, the Knight of Cups in a reversed position means that your talent is not realized enough in the workplace. For finance, the card is about losing lucrative opportunities. On the other hand, check incoming offers, as they may not be as good as they seem. If you have money problems, contact a specialist for help.
Knight of Cups advice
While making important decisions, the card recommends relying on emotions and desires. Even if other people don't understand your actions, listen to your intuition and heart. Think of dreams and something beautiful for inspiration. Use this energy to start actions and motivating yourself throughout the path to the goal. Besides, keep sharing your inner warmth and kindness.
Yes/No Tarot Reading
The Knight of Cups is a dreamer and romantic, who always relies on intuition. The card has positive energy, so the answer is yes.