Four of Wands meaning
A couple of young people, surrounded by four wands, dance in the center. Flower vines connect the tops of the pillars, which creates a sense of a wedding canopy. Jewish weddings have a similar element called chuppah. The big castle is the background, and a group of people is also nearby. The decorations say that the holiday is taking place. The map is associated with the fire zodiac sign, Aries.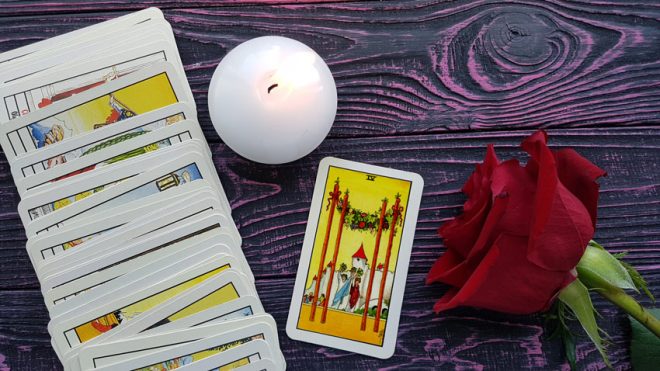 General Meaning
Upright
The Four of Wands personifies a comfortable environment, a cozy home, and celebration. Numerology says that four is a good number because it means a stable position and enjoyment of life. Thus, the card shows that you are relaxed and in harmony, but it is worth noting that this is the result of long labors and struggles. If you have been working on a grandiose project or a new business for a long time, then most likely you will soon receive a positive outcome and a reason to celebrate.
This is the best time to meet with your loved ones and celebrate this stage in your life. The card often appears during the holidays and you probably already know about the planned dinner with friends or have other events. The Four of Wands is one of the most positive Tarot cards. It heralds only positive changes, such as marriage, childbirth, successful completion of training and other occasions for the holiday. If you have no idea, what it can be connected with, get ready for good news.
The Four of Wands is closely related to home, cozy atmosphere and family circle. If you are thinking about buying a new home, or recently moved to a new place, the card is a good sign that foreshadows positive consequences. Also, try to build peaceful relationships with all your close people and solve quarrels in order to achieve harmony.
Reversed
Reversed the position of the Four of Wands speaks of the loss of harmony in your close circle. You may not be a participant in the quarrel, but only watch how the relationships of family members or friends have problems. This reflects on you in self-doubt and thoughts that your connections with people can also deteriorate or simply end. Perhaps your family has divided into two camps because of disagreements, and you are worried.
Causes of quarrels may be from outside. At the moment you are in a situation that does not depend on you, which affects you and your plans. You undoubtedly feel the inconvenience that creates additional difficulties. The best option to improve the situation is to spend time at home with loved ones and wait out all the problems. Remember that all troubles are temporary and will end soon.
When the upright side of the card talks about stability, the Four of Wands reversal talks on a transitional moment in your life. You are experiencing changes in many areas of your life, such as moving to another city, wedding, new job, etc. The problem is that you are experiencing stress because you don't know what result this change will lead to.
Four of Wands for love and relationships
Upright
If the card appears in your Tarot spread, then your relationship is in a stable position, which pleases you so much. You feel a comfortable homely atmosphere with your loved one and are completely safe. Fate does not have negative shocks for your couple in the near future. Perhaps even the opposite and soon you'll have something to celebrate. You and your partner are expecting parties, family dinners, religious holidays and ceremonies.
Your relationship is experiencing significant changes in a positive way. First, the Four of Wands is a strong sign of the wedding. If you and your partner have long been together and started thinking about a more serious stage, it is probably the moment for marriage. The card can also mean a move into a new house where you can create a cozier place and favorable conditions for creating a family.
If you are single, so Tarot does not recommend thinking about serious relationships, since you have a lot of parties and celebrations ahead. Enjoy your bachelor life and not burden your life with a serious relationship. The only exception is to meet former love and reunion. If your past comes back into your life, try to build relationships again.
Reversed
If you have a loved one and the Four of Wands appears, then your relationship has problems. Constant quarrels and tensions affect the quality of your life together. The problem can also be in your family members and their unwillingness to accept your partner. The card indicates your stressful state when you do not know how to end a series of turbulence. Reversed the Four of Wands position means difficulty at the altar, so now is not the best moment for a wedding.
If you are a married couple, this can mean not happy but temporary moments for your family. Perhaps, you and your husband or wife are divided and receive support from other relatives. In this way, you create additional difficulties that prevent you from meeting and discussing issues.
Singles with the Four of Wands in the Tarot spread is better not to start a relationship shortly. Most likely, you are now experiencing self-doubt and a feeling that you are suitable for no one. You also have difficulties in finding a partner due to a lack of social life. If you still want love and start a relationship, then be careful about the choice and do not count on long-term relationships. Past love may not let you go, and you want to be reunited, but this is not the best option if a card appears.
Four of Wands for money and career
Upright
Tarot sees a favorable atmosphere in the workplace and good cooperation in the team. Projects and businesses are easy and stable. Perhaps your boss is organizing a party in honor of successful work and to maintain corporate spirit. In any case, you must indulge yourself with a holiday. Your finances also allow not only celebrations but also gifts or a good dinner for loved ones. You work hard and deserve the money you manage wisely.
Reversed
The Four of Wands reversed talks about a bad time in your career. You find your office or work environment unpleasant. The reason for this is disagreement and bad relationships with colleagues. Perhaps, the problems began with an unsuccessful dialogue at a recent party. If the celebration should happen soon, try not to drink, be polite and do not overdo it with friendliness. Remember that you are among your colleagues and you must First show that you are professional in your business. The card says bad finances due to improper management and budget planning. You may have spent too much money on your relatives.
Four of Wands advice
The main message of the card is to show that nothing is achieved simply. Only after a long struggle and hard work you will get what you want. The Four of Wands recommends praising yourself for this and arranging a celebration among the close circle. Spend more time with relatives and try to improve relations with them in case of a quarrel in the past. Perhaps your life is undergoing cardinal changes, and you are constantly thinking about the need for this. The Four of Wands foreshadows that you will get your harmony and the desired in the end, but now you can only wait.
Yes / No Tarot Reading
The Four of Wands undoubtedly embodies harmony and successful undertakings. After passing through all the troubles and obstacles, a person gets a well-deserved, balance and happiness. The answer to your question is yes.