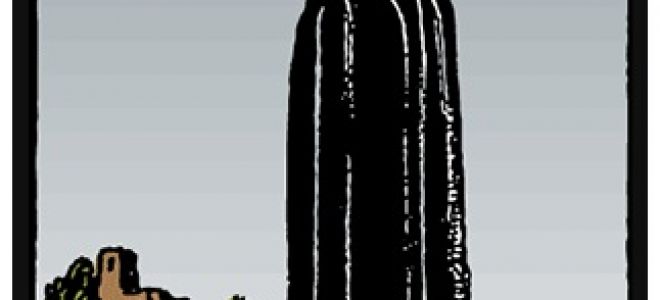 The Five of Cups meaning in love, future and money readings
The Five of Cups card shows a man in a black cape, who is surrounded by five cups. Three of them are right in front of him, allegedly he knocked them down. They symbolize failure and disappointment. Two other cups stand aside signifying new opportunities. Looking at the pose of a man, one can understand that he pays all his attention to the fallen cups. He is immersed in problems and does not see potentially successful options. The bridge leading to the castle is visible in the background. It allegedly invites a man to forget about the cups and move on.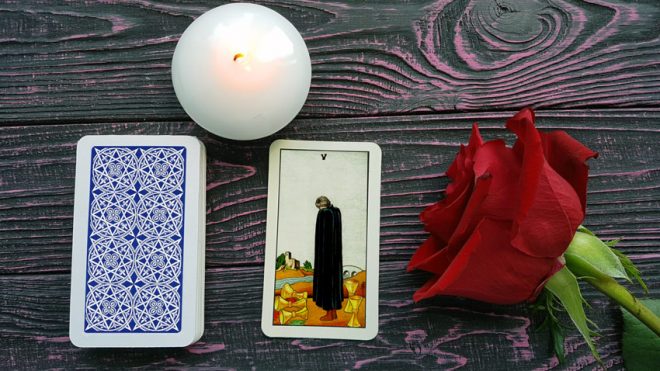 5 of cup: general meaning in readings
Upright
The Five of Cups appears to those who experienced an unexpected fall. The one hoped things would go well, but they turned out to be a disaster in the end. Sadness and disappointment make it difficult to move on. Take time to survive the fall, then gather strength and make a new push. The card also indicates old wounds due to past mistakes. Bitter memories disturb and lead to self-flagellation. Alternatively, you still feel like a victim. Anyway, negative emotions make it difficult to see new opportunities and stop on the road to positive change.
So, what is the way out? Forgiveness. The Five of Cups recommends forgiving the offender. In case of failure on your own fault, remember that you did the best. We all make mistakes, and we should not be upset, but analyze them, take a lesson and forgive ourselves. Everything perfect is created by experience. Ponder the reason for the failure and receive the maximum amount of benefit from it. Next time, everything will be much better.
If things aren't going as they are needed, do not worry, new opportunities can appear at any moment. Be open and positive not to miss promising options. Do not focus on problems and get rid of obsessive thoughts.
Reversed
The reversed Five of Cups points to hidden pain. The man who survived the failure does not want others to know about his mistake. Instead of sharing his grief and disappointment, he keeps it to himself. However, the secret cannot be maintained forever, and the card considers that the moment to revile has come. Choose someone you trust and do not be afraid to tell about the feelings. As long as the one keeps the pain inside, no one can help him. Communication with another person speeds up the healing process.
After making mistakes, many people blame themselves for it. The reversed Five of Cups advises to stop it and forgive yourself. Get rid of negative thoughts and find positive even in failures. Any experience is a priceless lesson. Before creating a masterpiece or reaching a goal, people experience a large number of falls.
The Five of Cups reversed is a reminder that the past can't be returned. Forget about what was and concentrate on what will be. Looking back, one does not see the new opportunities that open up almost every day. Risk and do what you want. The past can bring sadness, but the future means hope. Expand your creative, cheerful side to bring new colors to life.
Five of Cups for love and relationships
Upright
If you are in a relationship, the Five of Cups is a bad sign. Things are going bad, and separation can happen at any moment. In the case of married couples, quarrels will lead to divorce sooner or later. Alternatively, the card means that one of you two has an attachment to the former partner and always thinks about it. This makes it difficult to concentrate on the current relationship and its development. Fix it and sort out the feelings. Sometimes the Five of Cups means fear of loneliness or losing a partner.
If you are single, the Five of Cups means obsessive thoughts about unfulfilled past relationships. Sadness and the desire to return everything back are extreme. The obsession that you missed "The One" makes it difficult to live and move on. The situation worsens if the separation has occurred due to your fault. Guilt depresses and evokes thoughts of the past again and again. It is difficult to say the heart who it should want to be with. Try to get away from obsessive thoughts and communicate with friends more in order to speed up the recovery process.
The Five of Cups is also a symbol of bereavement in love Tarot. Loss of a loved one is shocking and heartbreaking. Feeling sadness privately and isolating from others are normal reactions. You can refuse new people, but do not push aside the help of friends and relatives. Join a support group to get advice from experts or to communicate with people who have experienced the same. Remember that new love will happen in your life and you must be ready at that moment to accept it.
Reversed
The appearance of the Five of Cups reversed is a good sign for couples. Despite past relationship problems, both partners are becoming aware of the importance of forgiveness. Mistakes become memories and will be forgotten someday. Think about how to improve the healing process, spend more time together. Move forward and do not look back. Alternatively, the card means the inability to forget about the pain caused by the partner earlier. Offense keeps the relationship from progress.
If the last breakup was painful and you are single now, the Five of Cups in a reversed position means the end of obsessive memories. The past relationship was cut off by your fault or not, but the feeling of regret is bothering a lot. Fortunately, the days of self-blame are over. Things bounce back, and interest in romance returns too. Take a look around and realize that the world is full of love. Attend social events, communicate with people and be open to new romances. The card also recommends forgiving other people for past mistakes.
Alternatively, the reversed Five of Cups says that old offense can't get away. Negative emotions are only intensified, which is bad for the recovery process. A happy future cannot be built on raw wounds. If you can't let the pain go by yourself, don't be silent, ask for support.
Five of Cups in money readings
Upright
The Five of Cups is a bad sign for a career. The card symbolizes the loss of a job or business. In the second case, you or a very good employee is going to leave the company. Anyway, hard times are coming. Unexpected circumstances, like trauma or grief, hinder success. Resentment and sadness force to be desperate. About finances, the card recommends not making risky investments as they will result in losses. Alternatively, the Five of Cups means inheritance after bereavement.
Reversed
For a career, the Five of Cups reversed means a new job or business after losing the previous one. After the recovery process, you have gathered strength and are ready to start again. It is not necessary to build from the beginning if it is possible to repair what was broken. This Minor Arcana card in the reversed position recommends not to lose heart and to take failure as a lesson. Analyze the mistakes and keep them in mind during the next project or business. The Five of Cups reversed is positive for finances. It means improving things after a long series of money-related problems. Alternatively, inheritance issues are possible.
Five of Cups advice
The main card advice is not to lose heart. Different situations happen in life, and we all have the right to spend time on ourselves and recover. However, do not isolate yourself from the help of other people. Use any means to speed up and improve the healing process. Also, learn to forgive yourself and others for past mistakes.
Yes / No Tarot Reading
The Five of Cups is associated with sadness, loss, and disappointment. The card teaches to forgive and forget old problems. The negative energy means no to your question.