The Ace of Pentacles tarot card meanings
The front side of the Ace of Pentacles has a big hand that almost magically appears from the clouds. It holds a gold coin. Entirely, this image symbolizes opportunities in the finance and business, which appear from nowhere. It is fully accessible, and only you decide to take advantage of this potential and turn it into an incredible success or stay with what you have. The background is wonderful and has many plants. The path, surrounded by flowers and grass, leads to a green arch, which opens the way to the mountains, to uncharted territory. This is a symbol to act and embody your ambitions.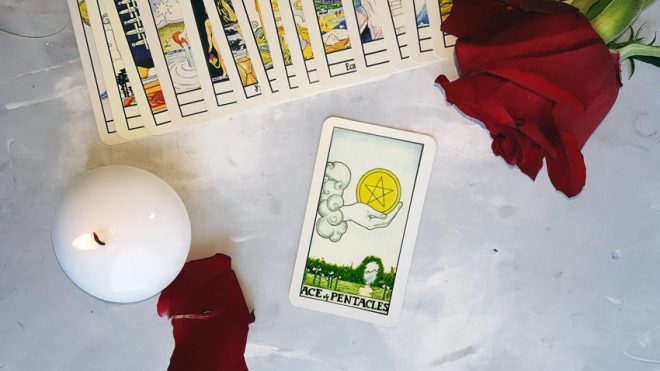 General meaning
Upright
The Ace of Pentacles, like all Tarot Aces, means new opportunities and potential. The card belongs to the Pentacles, so it has a narrower field of focus; you can expect beginnings in the field of wealth, business, money, etc. A career boost or a new, more significant job is possible. You may win a prize or find an additional way to make money that will enrich you. Now is the best time to start a business or implement an idea. But it is worth noting that the Ace of Pentacles does not guarantee 100% success, but only hints at the need to act and use all the open opportunities.
The appearance of the card can be the "green light" to start your journey. If you have been thinking about one idea for a long time, the time has come for implementation! Prepare a plan, explore opportunities, evaluate your skills, and begin to act. Keep your eyes open not to miss the opportunity and the right moment. Support your motivation with thoughts of success and be prepared for possible difficulties.
Do not think that the Ace of Pentacles affects only the amount of money, the card indicates further progress in different areas of life. Wealth is measured not only by physical things but also by moral ones: spiritual development, harmony, love and family, happiness, etc. In the future, you will feel blessed, and be sure that you fully deserve it. Think positively and be kind, and then the Universe will hear you and respond equally.
Reversed
The appearance of the reversed Ace of Pentacles means that you stop yourself from using the profitable opportunity. Most likely it is related to your career or business. You are not sure of the need or success of the offer given to you. The first things you have to do are talk to yourself and weigh the pros and cons. If you have an idea that you're afraid of starting to implement, revise it again and check for potential. Remember that you are not obliged to accept what you are not sure of.
The Ace in your Tarot reading may be a sign of the fall of promised, expected opportunities. The expression "Don't count your chickens before they hatch!" describes this situation. Therefore, if you receive an offer, wait until the end before celebrating. Another tip is being modest in expectations. In a reversed position, the coin looks like it can fall out of the hand at any moment.
Alternatively, the card may mean that you interfere with the implementation of your plans and constantly cancel the start. If this has been going on for a long time, you obviously need to reconsider your approach. Ask a professional for advice if necessary.
If you are thinking about starting a business, the Ace of Pentacles means difficulties and setbacks. Check your plan twice and be careful. Consider the question of whether your product, services are necessary for the market at the moment?
Ace of Pentacles for love and relationships
Upright
The Ace of Pentacles means positive consequences for your love Tarot reading. An important factor is also your relationship with the partner. If everything is great in your couple and you are happy together, it can be a sign of marriage soon. Chances are increased if the card is in the present position. If the card is in a future position, your relationship is likely to remain at the same level as it was; it is promising but not profitable for both of you.
The appearance of the Ace of Pentacles in love tarot also means stability. You feel truly happy because you are in a comfortable, safe environment. You are not worried about the future of you, your partner and the couple as a whole. A sense of calm gives you the opportunity to work and realize yourself in a career or business. You are independent and at the same time have support in the form of a loved one.
It has a clear prediction for singles. You can expect to meet with a potential partner, most likely in the office or in business, as you obviously work hard for your career. This will be a very successful relationship for you, as your loved one will create the most secure conditions for living together.
Reversed
If you have recently started a relationship, and you are still romantic and in love, make sure that you know your partner well. Be sure to communicate and disclose new facts about each other, if the Ace of Pentacles reversed is in your love Tarot reading. This will help you make relationships strong, achieve a high level of mutual understanding and increase the chances of success. This is not advice but a warning.
If you have been in a relationship for a long time, the Ace of Pentacles in a reversed position can talk about insecurity in yourself, loved one and the future in general. The card essentially means the beginning of something and promises the prospect of new plans. Most likely, you or your partner neglected the attention to each other in the past, which led to the problems. It is worth considering that in case of a great desire from both sides, the potential is possible.
If you are single, a reversed card means that you can lose the opportunity to build successful relationships in the future. Everything depends on you as now you are aware and obliged to rely not only on feelings but also on rationality. If you have not been able to find a partner for a long time, most likely you are not self-confident and are mentally repelling good people. The reason for this is unfortunate past relationships that hurt you and left weak.
Ace of Pentacles for money and career
Upright
The Ace of Pentacles is a good career card, which means new beginnings. Expect good news in the form of promotions or new business deals. Try to improve yourself and learn new useful skills. Your finances have all the chances for growth due to salary increase or new opportunities for additional profit. Do not miss the chance to make an investment as now is the best time for this. Perhaps the projects you have been working on for a long time will start making a profit soon. Think about savings for a rainy day.
Reversed
The card in a reversed position means delayed meetings, plans and work in general. If you are awaiting the approval of a project or a response about applying for a new job, you will most likely be refused. Your ideas have little chance of finding sufficient funding or recognition. To overcome problems, plan carefully before taking action. However, it's best to just wait for the right moment and opportunity. Your finances are also experiencing career and business problems. You do not correctly manage your budget and regret not having savings on a rainy day.
Card advice
Unbelievable opportunities are open to you, and your task is not to miss them. Fate will give you a subtle sign of when to start acting. Carefully plan your projects and ideas. Develop yourself in all life directions and gain new knowledge.
Yes / No Tarot Reading
The Ace of Pentacles means success and progress in many areas of life, especially finance. The card is very positive, so the answer is yes.