Four of Swords card meaning
A knight in his full armor lying on the tomb is shown on the front side of the Four of Swords card. His hands are in the prayer position, which symbolizes the rest of soul and body. His trusty sword lies horizontally beneath him and speaks of focusing in one direction. Three others hang vertically above the head and torso of the knight. The crypt wall also has the stained-glass with mother and child shown on it.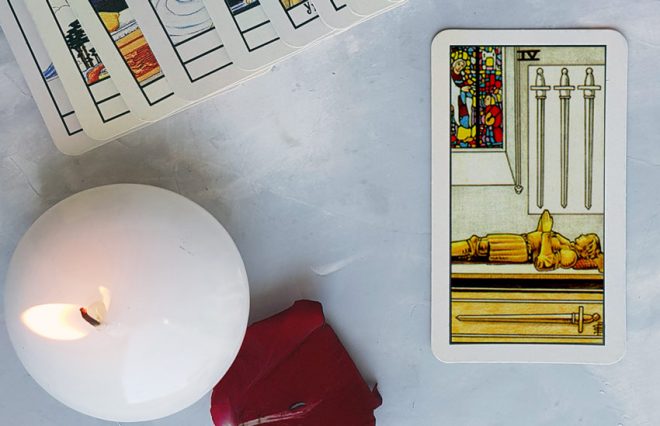 The general interpretation of 4 swords
Upright
The Four of Swords is a recommendation for those who have worked for a long time and are already halfway to a goal. Your body and mind need a rest. If you feel a surge of energy and want to act further, you most likely do not notice mental fatigue. Stress because of overwork does not bring victories, but hinders success, so take some time to heal your wounds. You will feel how it is easy to move forward and focus on the right things after that. In fact, the Four of Swords also means future challenges, so reincarnation is especially relevant. Meditation and peace are the best help.
If you have had recent shocks like a break-up, being fired from a job or other problems, the card says you need to focus on something positive. Spend a day with friends or loved ones and set aside important decisions. Alternatively, the Four of Swords advises spending time alone to gather all thoughts and ideas. Maybe you will discover new priorities that can improve your life. Get rid of depression before moving on.
This is also a great period to evaluate the work done and find motivation for further action. Take time to study the mistakes, think about fixing them and ways to prevent them in the future. Perhaps, you will find new ways to achieve the goal. A small break after each challenge or significant achievement is an integral part of the road to success.
Reversed
The reversed Four of Swords in your Tarot reading is a direct sign that you are on the verge of exhaustion. Your efforts and dedication lead to depression and fatigue. The card recommends taking some time for yourself and mental healing. If you do not take a break, your next steps will not be effective and will lead to your breakdown. Separate yourself from the outside world for the reincarnation of harmony within you. Forget about work, social networks and focus on relaxation.
Your attempts to do everything all at once lead to stress and mental exhaustion. Even if you feel that you have strength for physical actions, your mind screams in pain. You just do not have enough energy to fulfill all the points of the plan as soon as possible. Even if you don't meet deadlines, make sure you don't overdo with self-dedication. The Four of Swords reversed warns that it may affect your health. Create at least a few hours a day for rest or extra sleep. You will feel your motivation and productivity growth.
The Four of Swords reversed also speaks of frustration due to lack of progress in your career or relationship. For example, you feel stuck in the workplace, or your marriage has lost romance and spirituality. The card means you need a break to replenish energy. Perhaps, you are experiencing a lack of progress in your project. Most likely your approach to business is wrong. You prefer to wait and hope instead of changing and acting.
Four of Swords for love
Upright
The Four of Swords talks about tiredness in a relationship. You and your partner went through a lot together and had depression and stress in the past. Finally, your work led to harmony but incredibly tired of both of you. Now you and your loved one need rest and personal space. Spend time alone doing your hobby outside a relationship. Alternatively, you can also spend time together and change the location to forget about recent problems. This is necessary if difficulties have disconnected your couple.
Use the experience of difficult situations in the past to improve the future. Analyze the causes of stress and methods of dealing with obstacles to increase the quality of relationships. Remember why you are together and how you value each other not to lose your connection. The Four of Swords advises considering your and your partner's priorities and common goals.
If you are single and have the Four of Swords in your love tarot, you should accept your solitude. Your fears of being alone lead you only to a bad relationship. Learn to enjoy your bachelor life and think about the qualities you are looking for in a partner. Love comes to us when we don't expect it.
Reversed relationships
The appearance of the Four of Swords reversed, the same as the upright position of the card, speaks of overcoming difficulties and anxiety. You and your partner have worked hard to save love from problems. Now, you have harmony and slowly recover from a period of quarrels. You may need personal space to fill up energy after a hard time.
Alternatively, the card in a reversed position speaks of an endless cycle of difficulties and anxiety. You and your partner are trying to get out of a heap of problems, but everything goes on and on. Unfortunately, the Four of Swords may foreshadow the breakup in this case. Refer to the supporting cards to find out the exact meaning.
If you are single, the Four of Swords reversed means recovery after a failed relationship or the death of the loved one. You felt very depressed, so you isolated yourself from the outside world and friends. Now you are ready to go back to your usual life and try something new. On the other hand, your fears are over you, and you have practically lost faith in happy relationships. Ask your friends or specialist for help to get rid of anxiety.
Four of Swords for money
Upright
The Four of Swords indicates that you are under pressure in the workplace. This is the cause of your stress and mental overload. You take (or are forced to take) a lot of work that exhausts you. You need rest, personal space and meditation to restore energy and your own productivity. Speaking of finances, the Four of Swords means lack of money. You have suffered from this for a long time, and now you do not even believe that things can become better. However, fortunately, this is just your opinion. Relax and let negative thoughts go away and then the solution will come to you.
Reversed
The appearance of the card in the reversed position means that you have had a long break from work and now you can get down to business with the new power. You were able to cope with stress and fatigue during this period. Alternatively, the Four of Swords reversed indicates that you are suffering from depression and fatigue caused by work. Your level of dissatisfaction has reached the limit, and you are thinking about finding a new job.
The card has two meanings for your finances. On the one hand, things are going better, and you are recovering from hard times. On the other hand, you cannot cope with financial problems and are under pressure. Use the help of friends or a special assistant to deal with debts and improve your finances.
4 Swords advice
The card means recovery from depression. Do not push yourself to the limit if you feel exhausted. Move away from everyday life and take time to meditate and relax. You will 100% notice that your productivity level is increased.
Yes / No Tarot Reading
The Four of Swords means stress, but also speaks of recovery and spiritual rest. The answer to your question is more likely yes than no.